< See all materials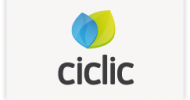 Applications
Automobile and truck
Building
Electric and electronic
Farming
Industry and tools
Transformation
Blow-moulding
Extrusion
Film
Injection
Normes
Ciclic is the trademark of the GCR Group, the leading manufacturer of polyethylene (PE) and polypropylene (PP) industrial compounds.
Ciclic has contributed to the progress of sustainability in the plastics sector by providing its products with a Life Cycle analysis (LCA) and a 60% to 70% lower carbon footprint certification than conventional polymers.
Ciclic brings great advantages:
• Adapting to the specific needs of each market and each customer
• 100% recyclable plastic compounds
• Reduction of certified Carbon footprint
• High quality of raw materials
Pas de fiche technique disponible...